Learn How to Batch Plan Like a Pro at Winter Batch Planning Live 2024!
... so that you can finally be done with the constant day-to-day scramble, working long hours on Sundays, and spending countless nights during the week planning and grading!
Have an entire weekend with no grading or planning, so that you can spend time with friends at brunch or go on a hike - do whatever you want!
Feel the support and inspiration of an entire community rallied around you so that you no longer feel like you're doing this "teaching thing" all alone.
Finally feel seen and heard as a teacher, knowing you're learning imperative skills for your teaching success that should have been taught in your teaching program.
Hear from teachers who attended Winter Batch Planning Live 2023!
A small glimpse at what you'll get to accomplish in our 2 days together!
And the entire team at EB Academics is going to help you every step of the way.
If you've been to other conferences or PD in the past and you …


… didn't feel like you learned anything concrete that you could actually take and use in your classroom
… walked away feeling more overwhelmed than when you showed up and now have all of these ideas with no plan to actually implement them
… felt like your time would have been better spent grading that stack of essays instead

… know that our Batch Planning Live experience is different.  
Introducing your Winter Batch Planning speakers!
Dr. Deonna Smith
VIP-Day Speaker
The Transformative Power of Joy
Dr. Deonna Smith is a former teacher and school leader, and educational justice advocate. With over a decade of experience, Deonna has worked with students and teachers in grades K-12 and even in the higher education setting. As a student, teacher, DEI practitioner, and administrator, Deonna saw firsthand how inequitable our schools could be. But she also saw the potential for schools to be spaces of liberation and joy. Deonna's passion for connecting theory with practice led her to pursue and complete her doctoral degree in education and social justice. In her work, she strives to make theories and pedagogies accessible and applicable to teachers and learners. After wearing many hats inside the school building, Deonna transitioned into her advocacy work. Now, Deonna works with education stakeholders across the country to fight for joyful, inclusive, and equitable spaces for students. Deonna's latest book, Rooted in Joy: Creating a Classroom Community of Equity, Belonging, and Care, is a guide that blends theory, narrative, and practical tools to help teachers and leaders build spaces for their students to thrive. When Deonna isn't working, she enjoys hiking, baking, and dancing. 
Hayward Jean
Day 1 Speaker
Lose "the J.O.B."; win your purpose!
Hayward Jean is the Director of Student Services for the Orangeburg County School District, leading a team of professionals in serving approximately 11,000 students. As an award-winning Principal of Mellichamp Elementary School, he helped the school make history as one of eight South Carolina schools in 2013 to go from an "F" rating to an "A" rating in one year, and in 2014, they were the recipient of the school's first ever Palmetto Silver Award winner for academic performance. In the 2019-2020 school year, Mellichamp was one of two schools in the country to be awarded the National Institute of Excellence in Teaching's (NIET) School of Promise award. Recently, Hayward authored a book, entitled Weapons of Mass Distraction: Dismantling the Influence of Negative Hip Hop Music on Our Youth. He also co-authored a Marriage Prayer Journal with his wife, entitled The Power Cord Devotional: A 40 Day Marriage Prayer Journal for your Prayer Journey. 
Kailey Lefko
Day 2 Speaker
How to Create a Daily Mental Hygiene Routine in Your Classroom that Supports Student AND Teacher Well-Being
Kailey has been in the field of education for over a decade. So, she has a first-hand understanding of the realities of the classroom and the challenges that both teachers and students face every day.
She and her business partner developed the research-backed Educalme online program in response to the rise in anxiety, stress, and burnout in the classroom for both students and educators. And, as we know, the pandemic has further intensified this crisis and the need for evidence-based solutions.
WE WERE ONCE WHERE YOU ARE RIGHT NOW...
That's when we decided to do things differently, and everything changed.
And we want to help you experience the same results….
At Batch Planning Live, we are going to focus on teaching you about our EB Lesson Planning Approach, as we break down planning into 4 different stages.
Your Scope and Sequence

Using the Standards as Your Guide

Our Signature Into, Through, and Beyond Approach 

The Planning and Prepping Stage
Here's the deal with Batch Planning Live...

We created this event so that we can be the mentor for you that Caitlin needed most when she actually quit and walked away from teaching all those years ago. 


Here's why this event is different than anything you've attended in the past. 
There's a deep need in the profession for teachers to find inspiration, community, and support. That is exactly what Batch Planning Live is going to bring into your life. Teaching doesn't have to be isolating. You don't have to do this alone. Having a community can make or break your experience. 

You will have dedicated work time actually set aside to get the work done. No more putting it off until another day when you "finally have the time." No. You've dedicated two days of your life to plan that will reward you 100-fold throughout the school year. 

You are going to walk away from this event with foundational planning skills that should have been taught to you in your master's or teaching program. 5 hours spent planning on a single lesson? Not even kind of realistic. Now, you'll have a framework that actually works for planning and gives you back your life outside of school. 
Here's what's included in the event...
The 4-Step Process of our EB Lesson Planning Approach
Special Guest Speakers

Hot Seat opportunities to work through your units and ask Caitlin and Jessica your specific questions

DEDICATED time to plan for the rest of the year - absolutely invaluable!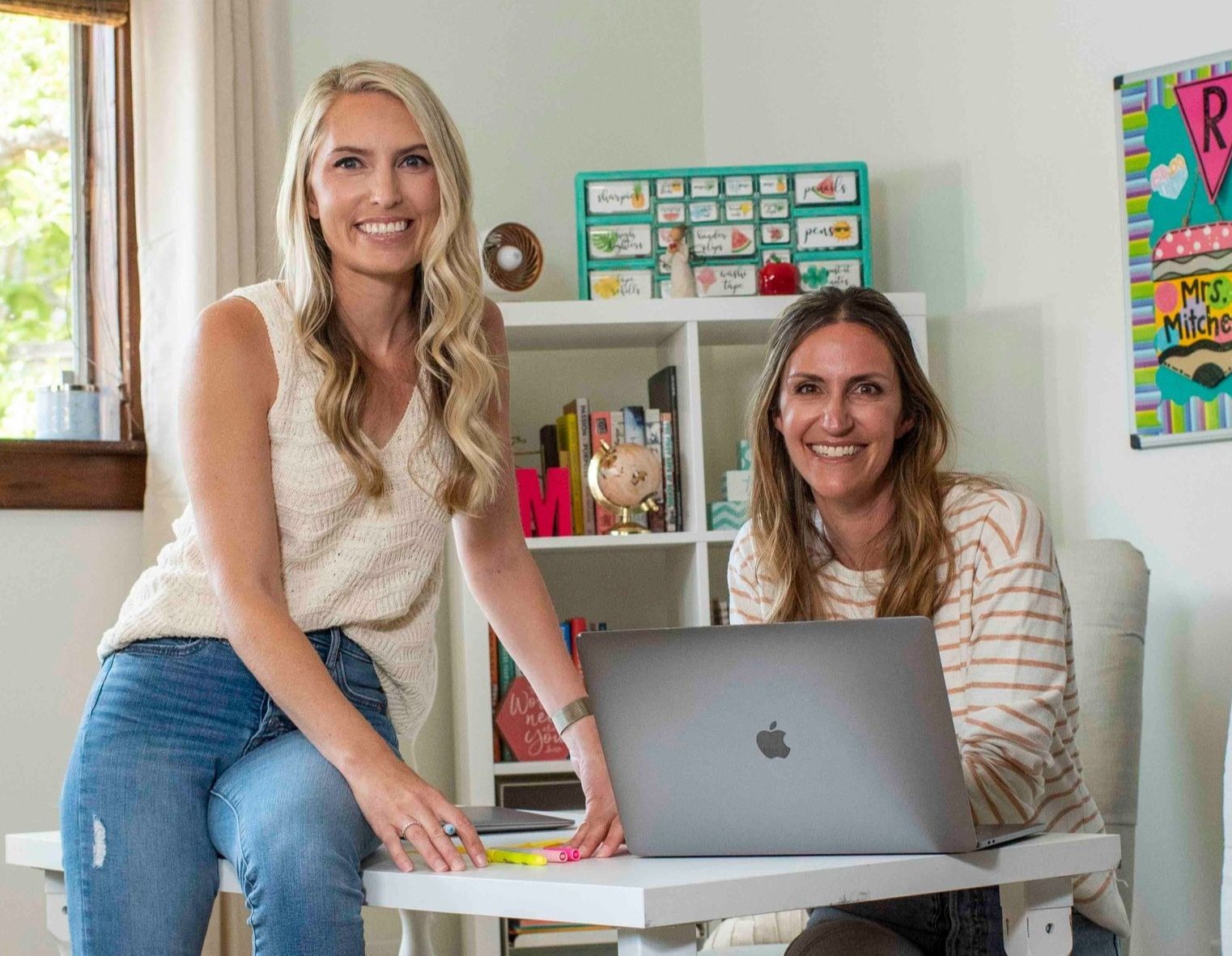 Specialized and Exclusive Digital Planner designed with your teaching needs in mind. This planner includes all of your standards, your Scope and Sequence, as well as your day-to-day and weekly plans. 

Digital SWAG bag with inspirational posters, wallpapers for your computer, and more.

PRIZES!! We pick a handful of teachers at each event to win all kinds of fun prizes!

 
BONUS VIP PACKAGE 
Exclusive Bonus VIP Workshop with Dr. Deonna Smith on January 5th at 1pm PDT

10 FREE Resources of Your Choice

12 Fill-in-the-Blank Activity Templates to be used with any unit.
INSTANT ACCESS FOR VIP TICKET HOLDERS!
An AI Prompt Bank and
How-To AI Guide for EB Teachers

Videos Tutorials for how to navigate and use the AI interface
AI Prompts Included: Essential Questions, Discussion Questions, Differentiation, Assessments, Mentor Texts + Sample Essays
What are you waiting for?
As a teacher who attends Batch Planning Live, our goal for you is to walk away from our two days together not only feeling inspired, motivated, and excited but also with the whole second half of your school year planned and ready to go. That way, you actually get to enjoy your life outside of the classroom, not giving school a second thought.
RESERVE MY TICKET!
$127 
Ticket to the Event
Hot Seat Opportunities to Work Through Your Plans
Digital Planner
Dedicated Time to Plan for the Entire Second Half of Your School Year (invaluable!)
Specialized Breakout Rooms
Motivational Speakers
Prizes!
YES! I'M THERE!
$164 
Ticket to the Event
Hot Seat Opportunities to Work Through Your Plans
Digital Planner
Dedicated Time to Plan for the Entire Second Half of Your School Year (invaluable!)
Specialized Breakout Rooms
Motivational Speakers
Prizes!
10 COUPON CODES TO USE ON ANY EB RESOURCES!
12 FILL-IN-THE-BLANK ACTIVITY TEMPLATES
EXCLUSIVE VIP WORKSHOP
EB AI TEACHER ASSISTANT (Immediate Access After Checkout!)

 

 
I WANT TO BE A VIP!
Meet Your Amazing Batch Planning Leaders!
Caitlin Mitchell
CEO, EB Academics
Caitlin always has big, HUGE ideas—and the organizational skills to pull them off. She's also the one who's going to remind you that, when you're having a bad day, you need to put on your own oxygen mask first.
Jessica Cannata
CCO, EB Academics
Jessica is the queen of batch planning—and the brilliant creative mind that makes sure both students and teachers have a blast with our activities. (Those escape rooms? All her.)
hey there!
We're Caitlin + Jessica
CO-FOUNDERS, EB ACADEMICS
Caitlin here! Jessica and I co-founded EB Academics in 2014. As a teacher, I went through years of struggling to truly understand what it meant and looked like to become an empowered ELA teacher - the teacher who got to leave school at school, head out when the bell rang, and not give grading or planning a second thought on the weekends.
I remember, though, in those early years in the classroom that led me to quitting, that I felt like a complete failure - teaching began to feel more and more unmanageable. 
The biggest struggle? Learning how to create an easy framework for myself to follow when creating and planning my lessons.
And that's where Jessica stepped in.
She was the teacher across the hall from me the year I returned to the classroom to give it another shot, and I went to her desperately seeking help and advice. Thankfully, she sat me down and showed me what she was doing - batch planning. 
And after years of perfecting our Batch Planning Framework, writing a book all about it, and helping thousands of teachers around the world take complete control of their teaching lives, we're excited to be able to invite you to our 7th Batch Planning Live Event. 
We can't wait to guide you. 
Frequently Asked Questions
WHAT DO I NEED FOR THE EVENT?
CAN I TELL A FRIEND ABOUT THIS EVENT?
HOW CAN I CONTACT YOU WITH QUESTIONS?
CAN I BUY MULTIPLE TICKETS FOR OTHERS?
WHAT IS THE REFUND POLICY?
WILL RECORDINGS OF THE EVENT BE AVAILABLE?
IF I'VE ALREADY ATTENDED BPL, WILL I GET ANYTHING NEW/DIFFERENT WITH MY TICKET PURCHASE?
CAN I REQUEST A QUOTE FOR MY ADMIN/DISTRICT TO PURCHASE TICKETS?
WHAT ARE THE DATES FOR BPL WINTER 2024?